Mount Rainier, Washington
Summit elevation: 14,417 ft (4,394 m)
I was looking for a next level adventure. Something unlike anything I had ever done that would push my limits. I had taken a three day ice-climbing and mountaineering course offered by Eastern Mountain Sports, in the White Mountains, NH. I was itching to put my newly learned skills to practice. I searched and asked for iconic destinations. I heard about Mount Rainier through the grapevine and the more I looked into it the more I knew it was what I wanted to do.
Mount Rainier is the highest mountain of the Cascade Range of the Pacific Northwest. It's also the most heavily glaciated peak and most topographically prominent in the contiguous U.S. The pictures my searches would yield were impressive to say the least, and being slightly obsessed with chasing those destinations with a "wow" factor, I knew I had to climb it! I shared my idea with my oldest brother, and he agreed to join me on my new adventure.
Mount Rainier is a difficult mountain to climb, requiring most climbers two or three days to reach the summit. You have to traverse the largest glaciers in the U.S south of Alaska. About 8,000 to 13,000 people attempt to climb the mountain each year with only about half of the attempts being successful. Failed attempts are mostly attributed to weather and poor conditioning. You or your team require experience in glacier travel, self-rescue and wilderness travel. About two mountaineering deaths occur each year due to rock and ice fall, avalanche, falls, and hypothermia associated with severe weather.
There are only three mountain guide services for Mount Rainier:
Besides the smaller details that called my attention, the main reason I chose to climb with Alpine Ascents International, was because they are the only guide company with a high elevation camp at Mount Rainier. The high camp at the base of the Ingraham Glacier is an added experience, an adventure within the adventure. Camping at the base of a glacier, watching the sunset at 11,200 ft, and being closer to the summit for summit day, were all benefits and experiences that I had to have.
Training:
Climbing Mount Rainier is extremely physically demanding. You should be in the best shape of your life. Remember that the other people in your time are also training heavily for the climb and you have a responsibility to the rest of the climbers. The more fit you are the more enjoyable the trip is going to be and the less you will need to worry about keeping up with the rest of the very fit team. You will need to climb for about 6-10 hours per day and over 12 hours on summit day. You'll need to climb with a 45lbs pack at very high altitudes. Below I include a link to Alpine Ascent's physical conditioning page specifically for this climb.
Day Before The Climb: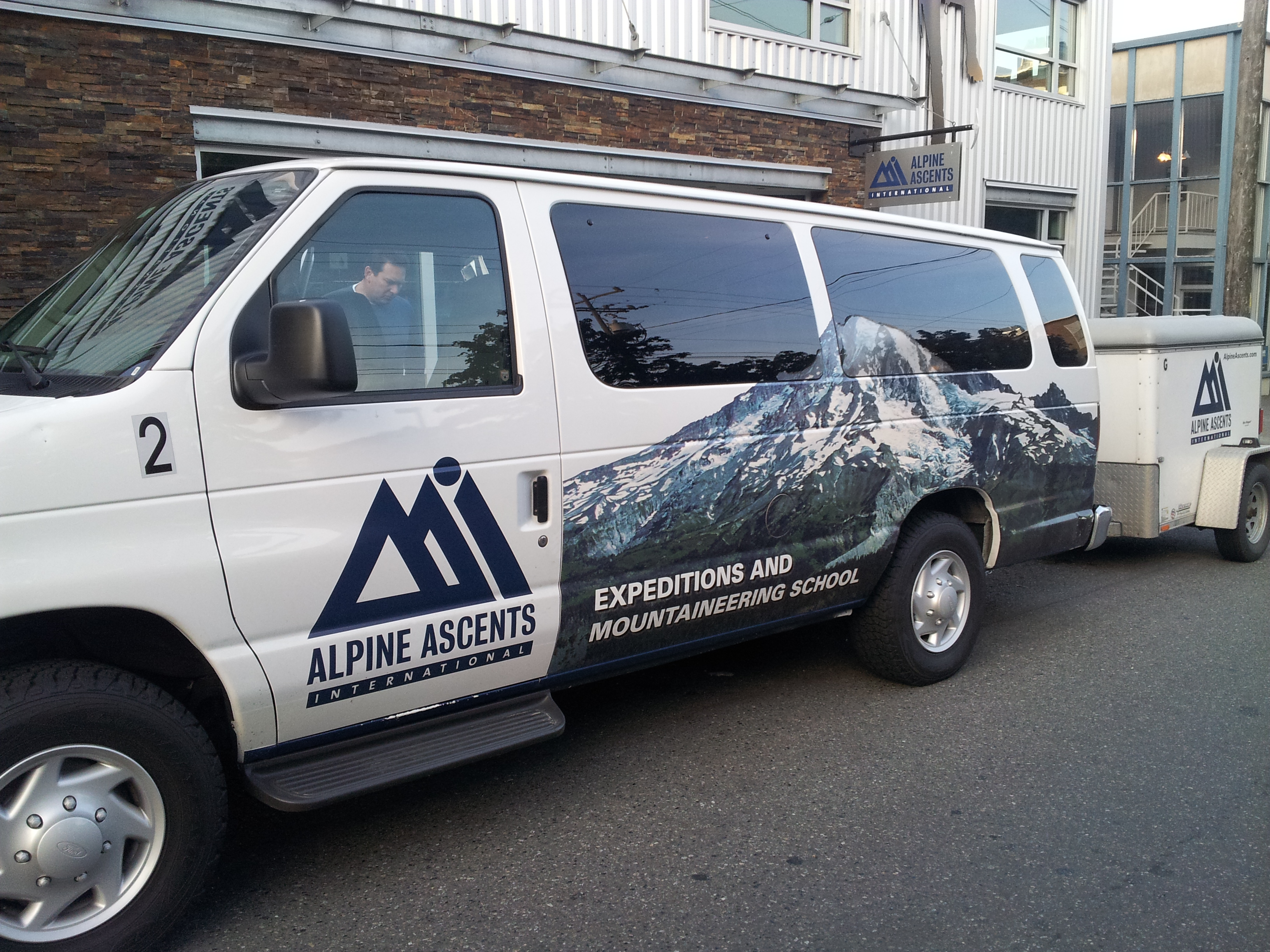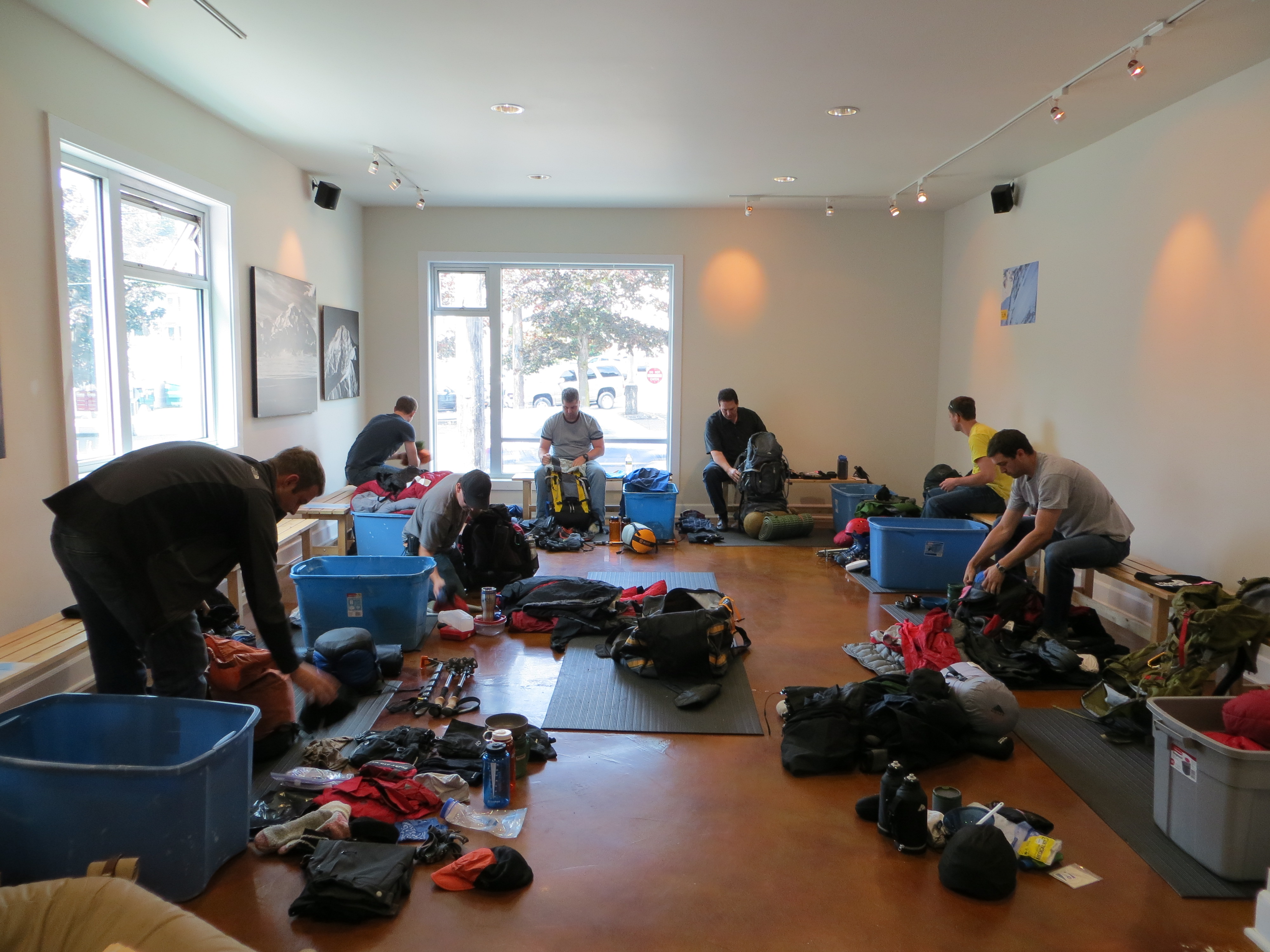 The day before the climb we meet at the Alpine Ascents International office in Seattle for a mandatory gear check at 2PM. We meet our fellow expedition teammates and share some stories. The guides inspect all team member gear to confirm it is adequate for what's ahead. We also are able to rent any equipment if the guides determine ours is not proper or if we are missing anything.
Day 1:
We met our team at the office at 6 a.m, packed up and drove to our drop off at Mount Rainier
We began our ascent at Paradise (5,400 ft.) hiking along park trails to the snow line and to continue on snow to Camp Muir. Today's hike would take about five hours with several rest stops along the way where AAI would provide advice on how to move efficiently on snow, glaciology and volcanology. After crossing the Muir Snowfield we arrived at Camp Muir (10,080 ft.) already with a smaller team than we started with. A couple of guys from the team felt sufficiently exhausted to know they'd better turn around now before continuing any further.
Some of us began developing blisters on our feet due to the rental mountaineering boots. The guides used mole skin combined with padding from old camp mattresses to release pressure around the affected spots.
I sensed something wrong in the atmosphere as the guides would whisper to each other and asked us to hide in the hut while a rescue helicopter arrived. As it turns out just a little while prior to our arrival a park ranger had lost his life when several climbers were caught in a storm while trying to ascend the mountain.
That night we slept in our private hut at Camp Muir and enjoyed the view:  Mt. Adams, Mt. St. Helens, and Mt. Hood to the south, as well as the Cowlitz Glacier and Cathedral Ridge to the northeast.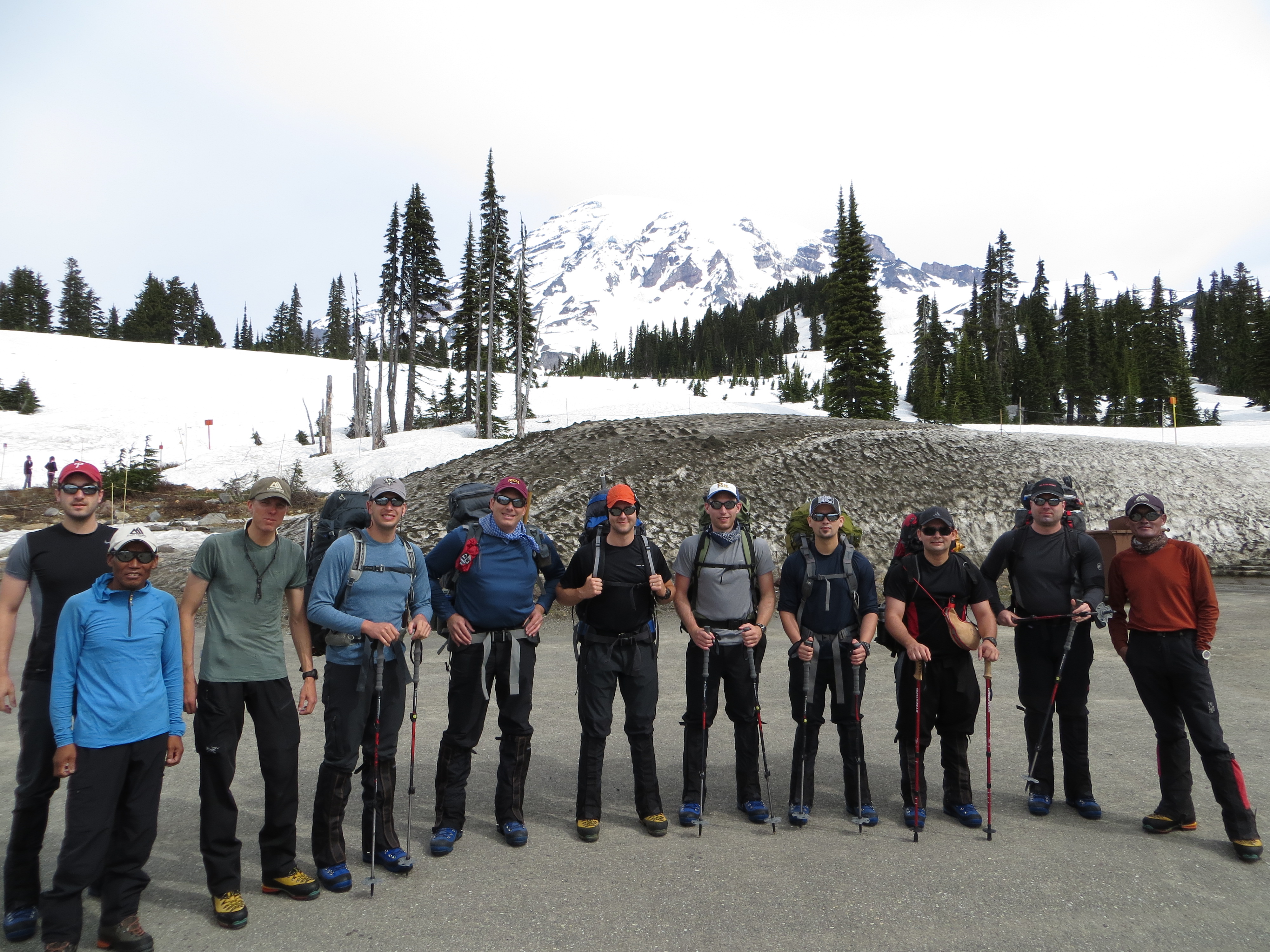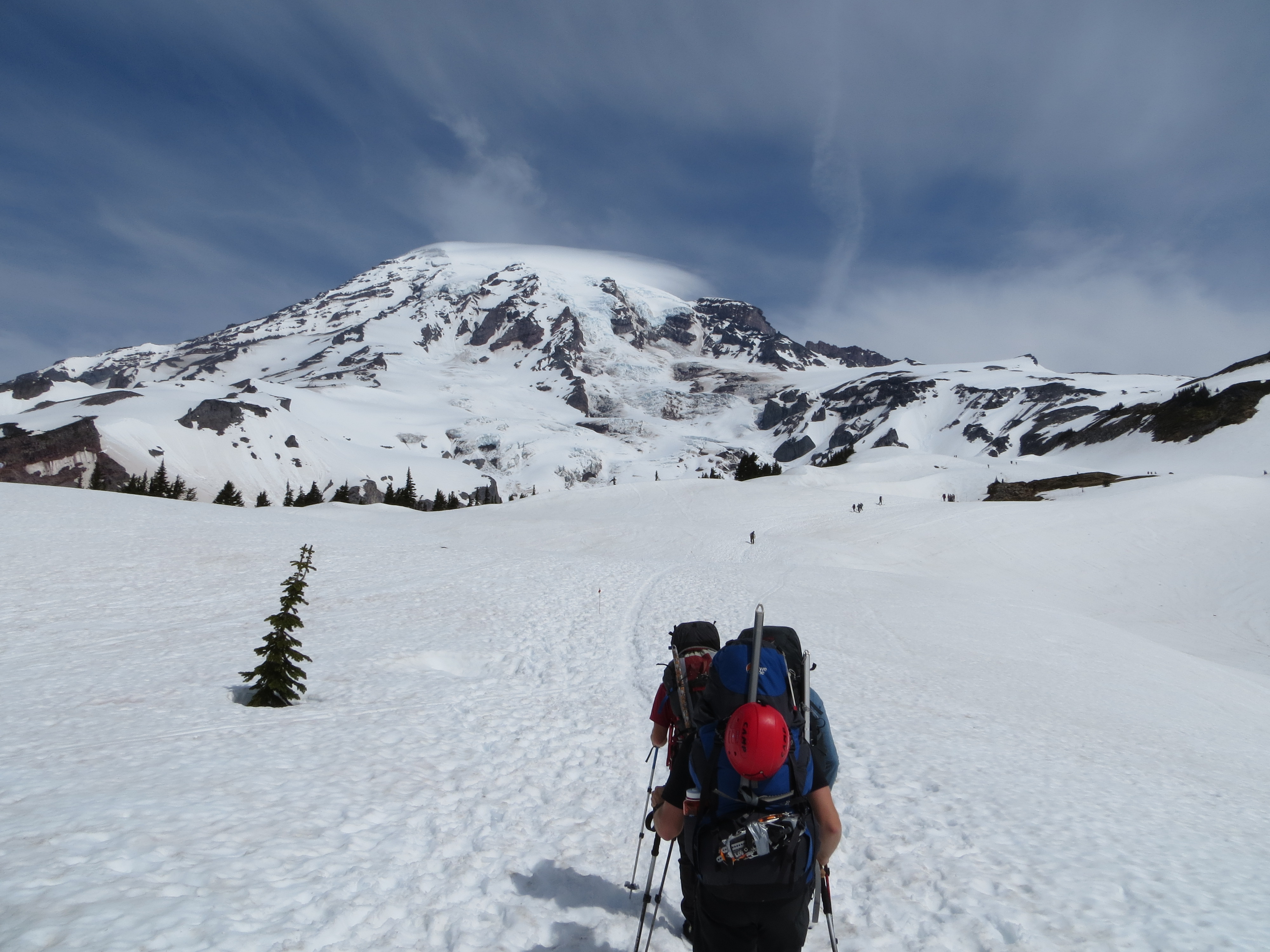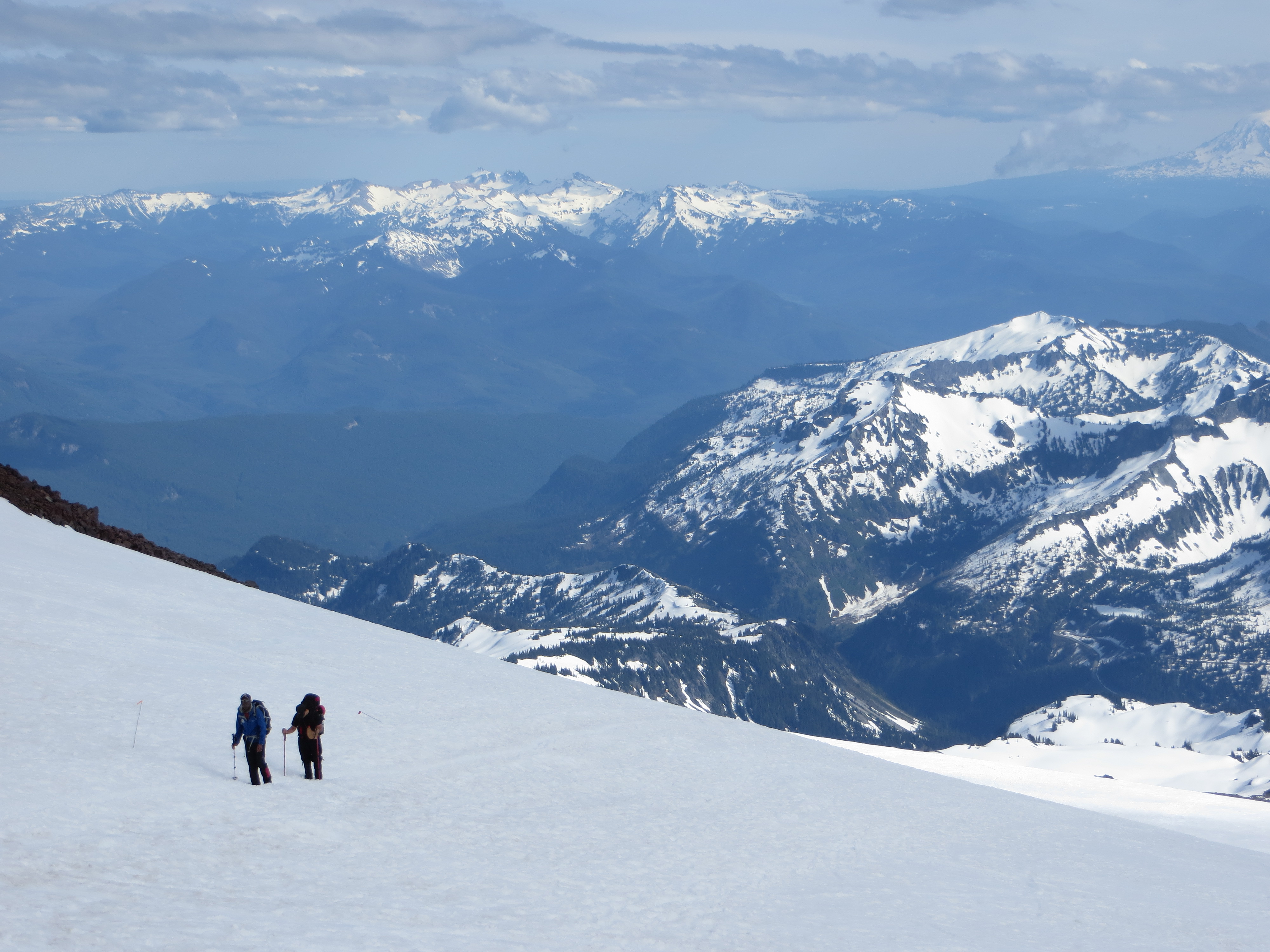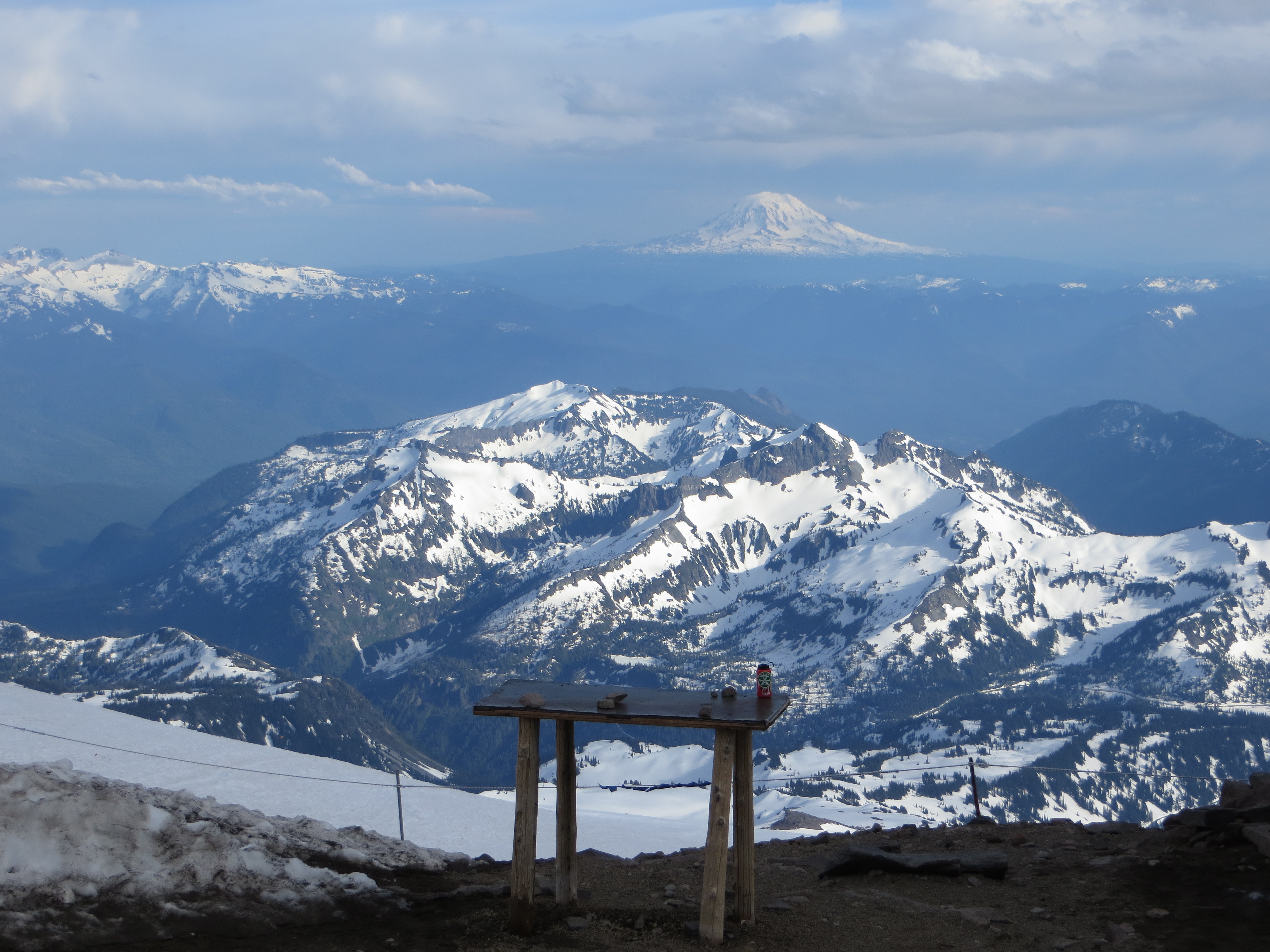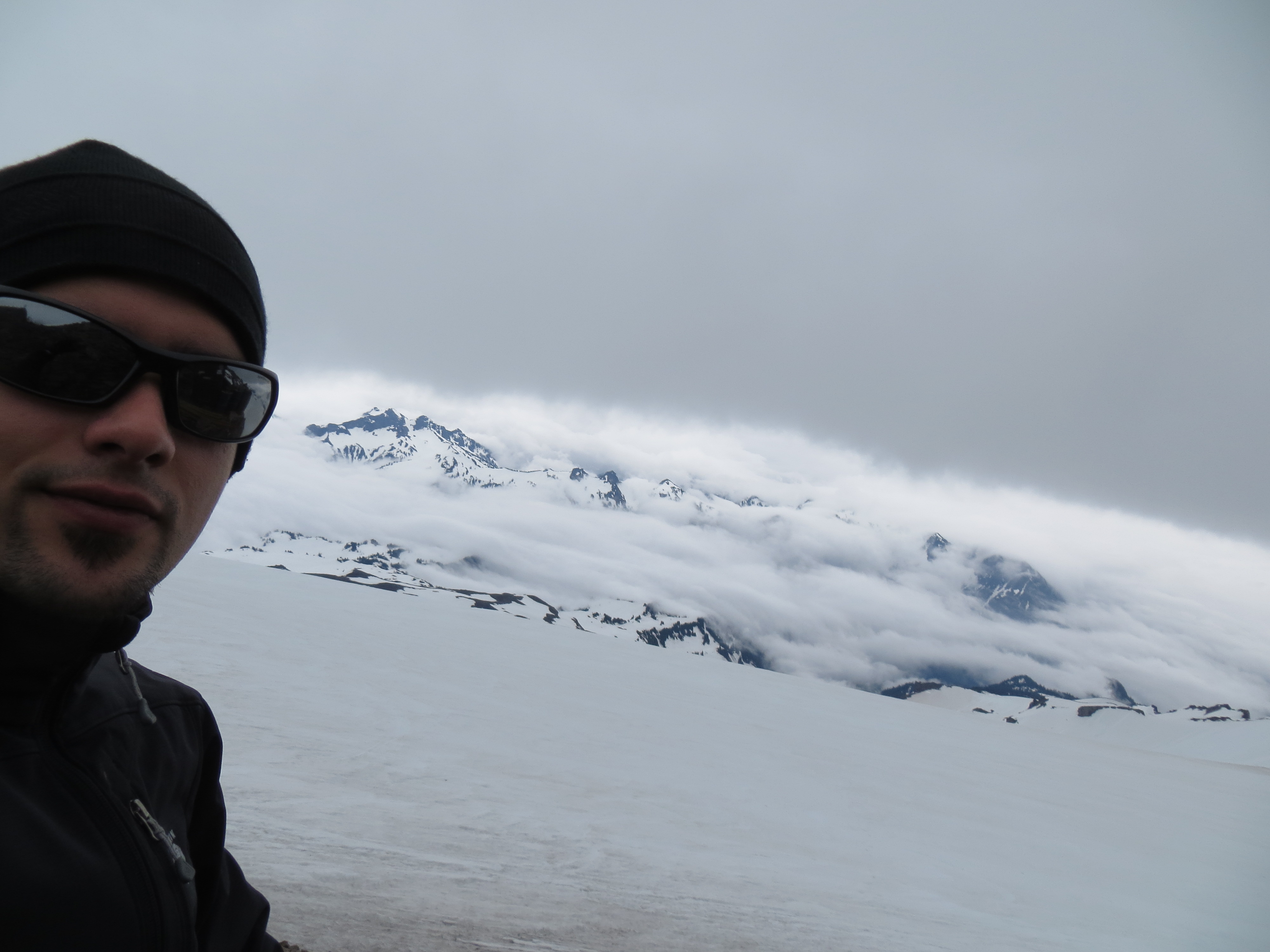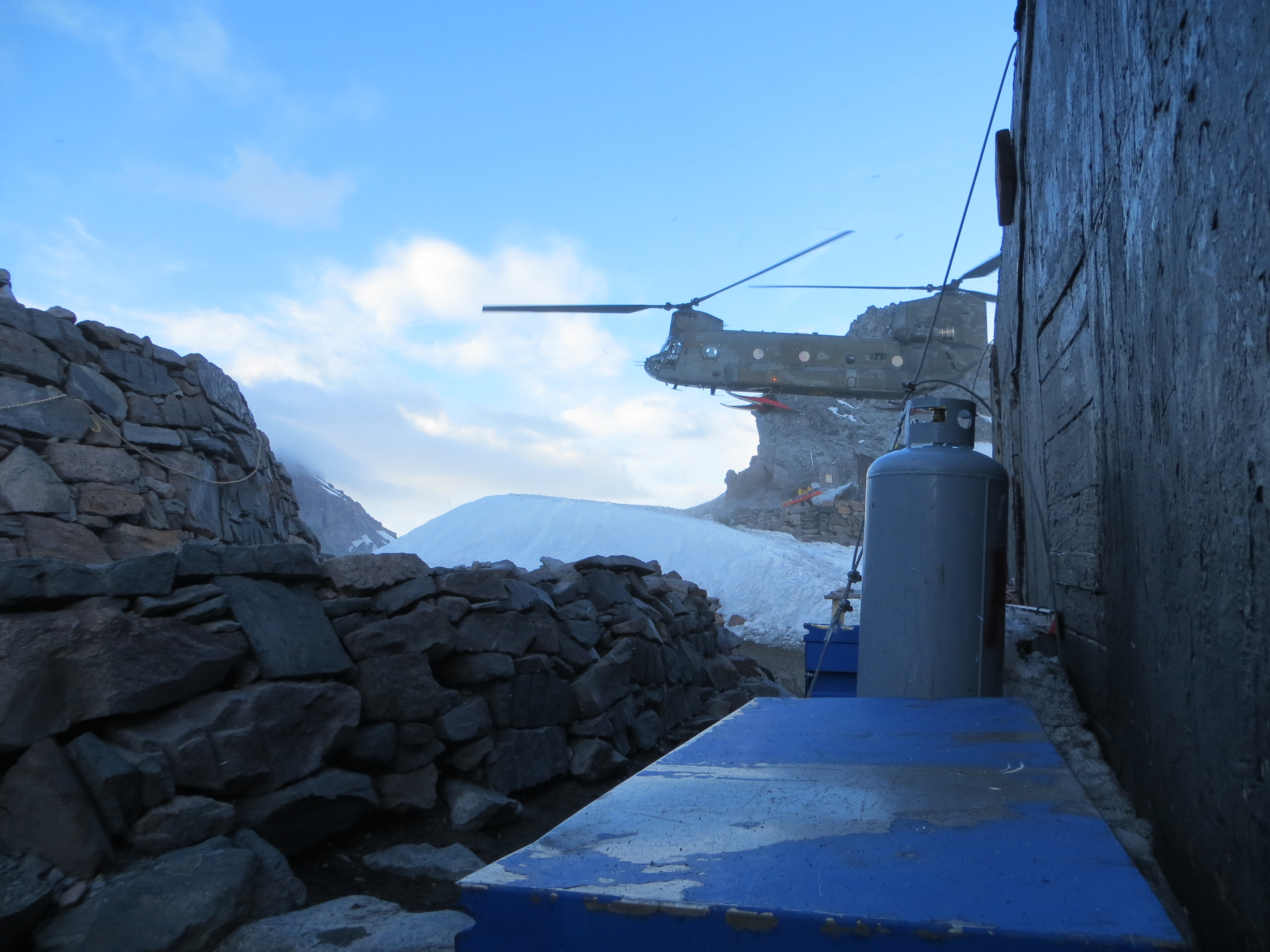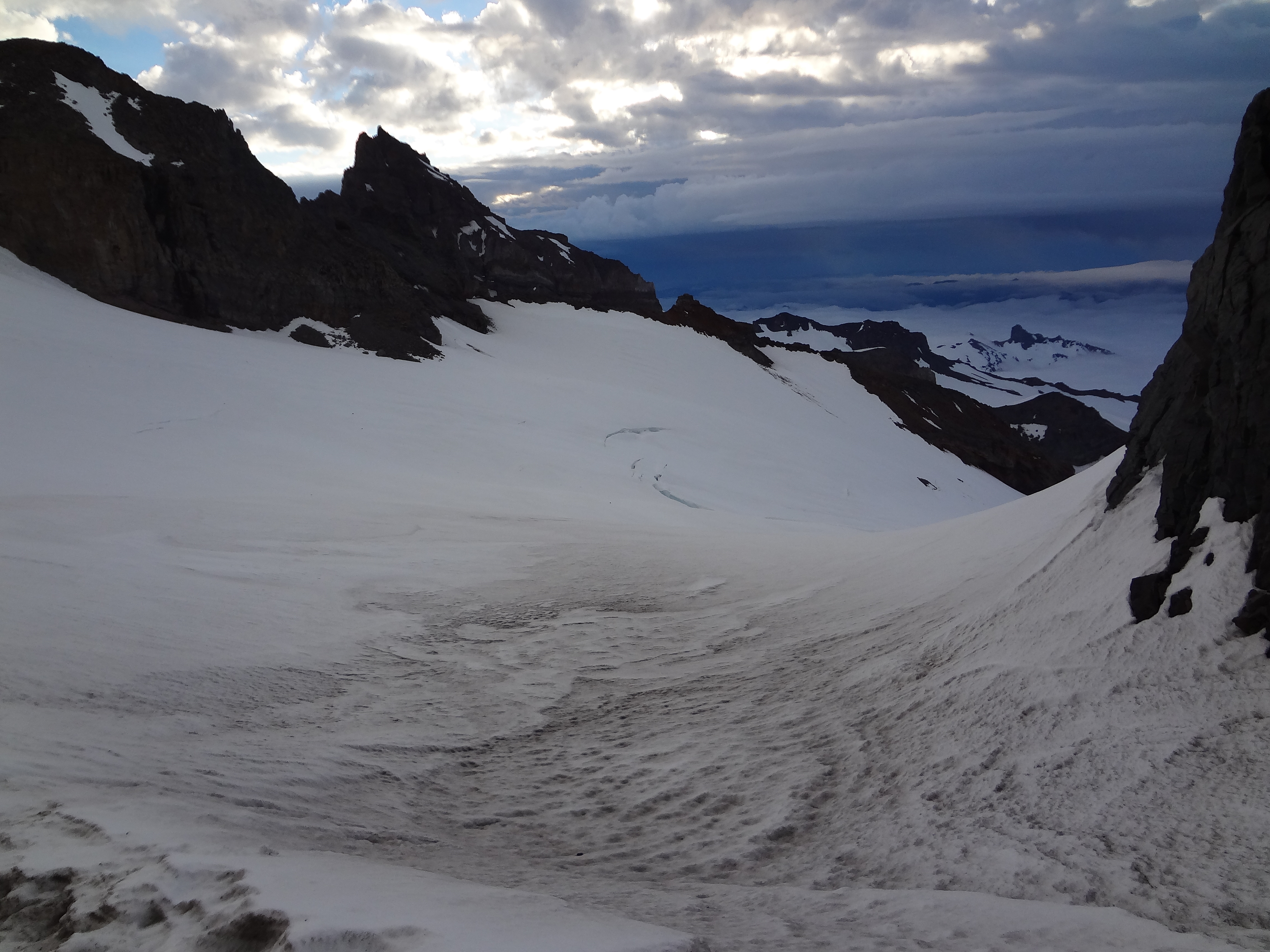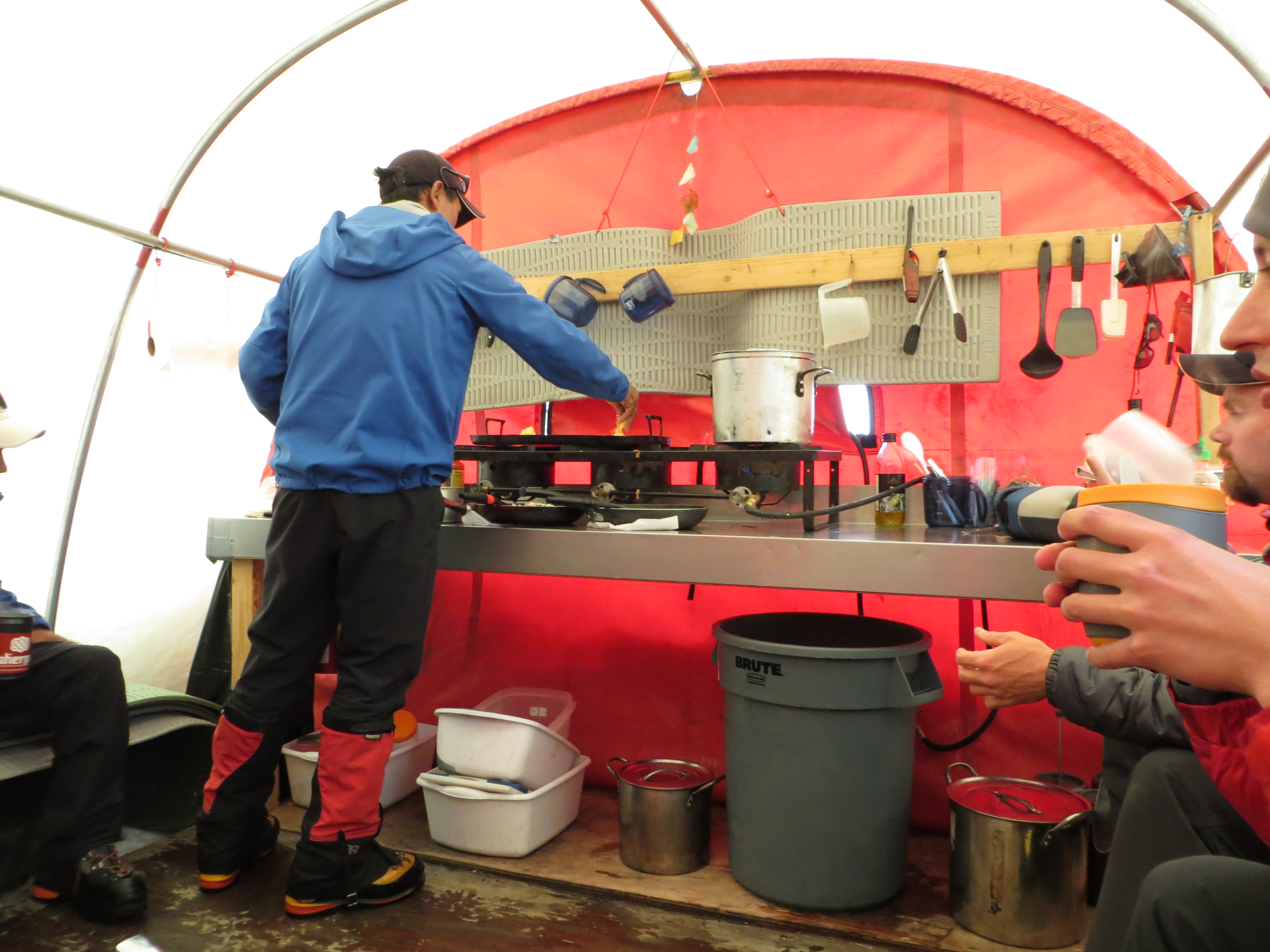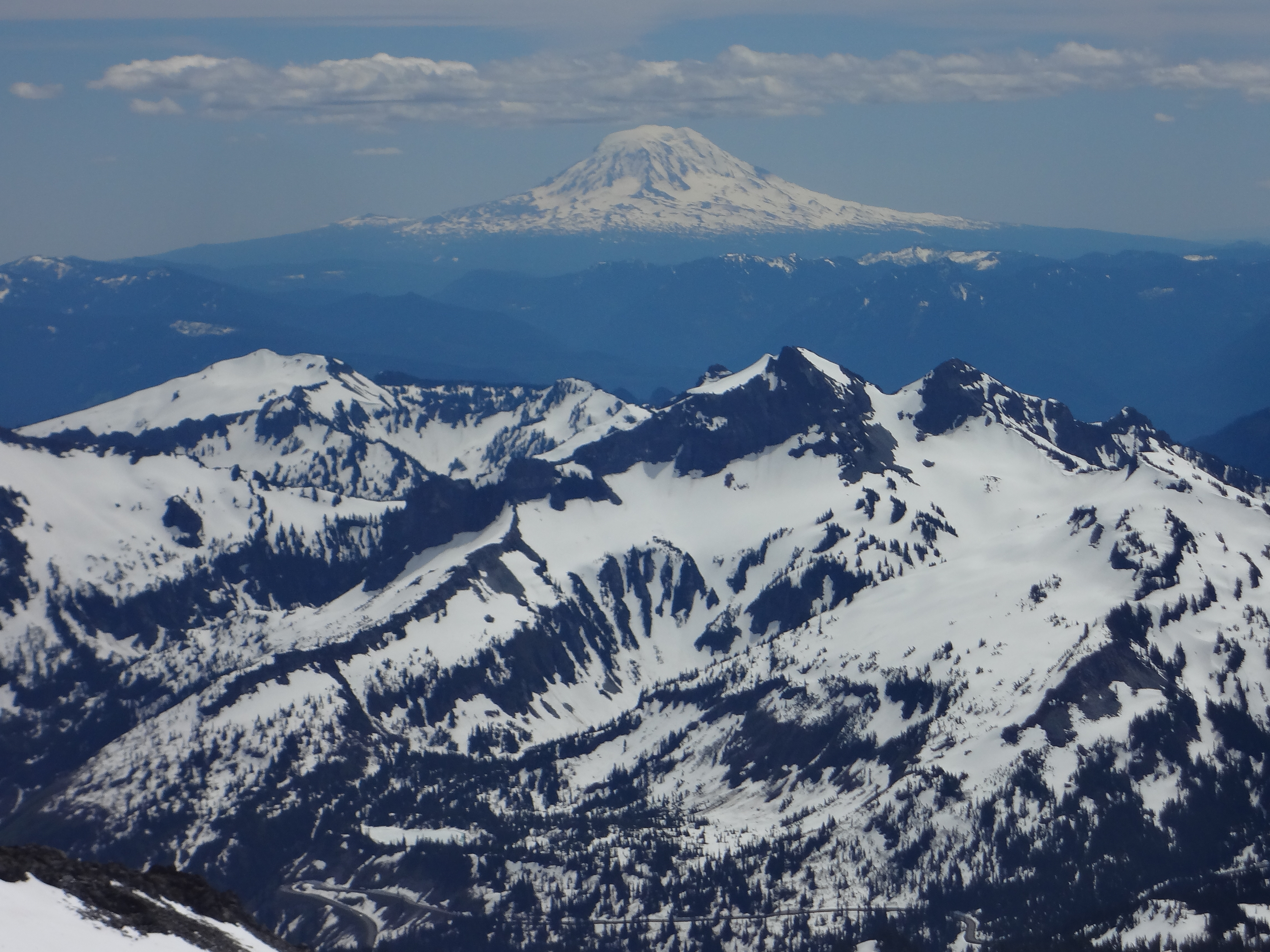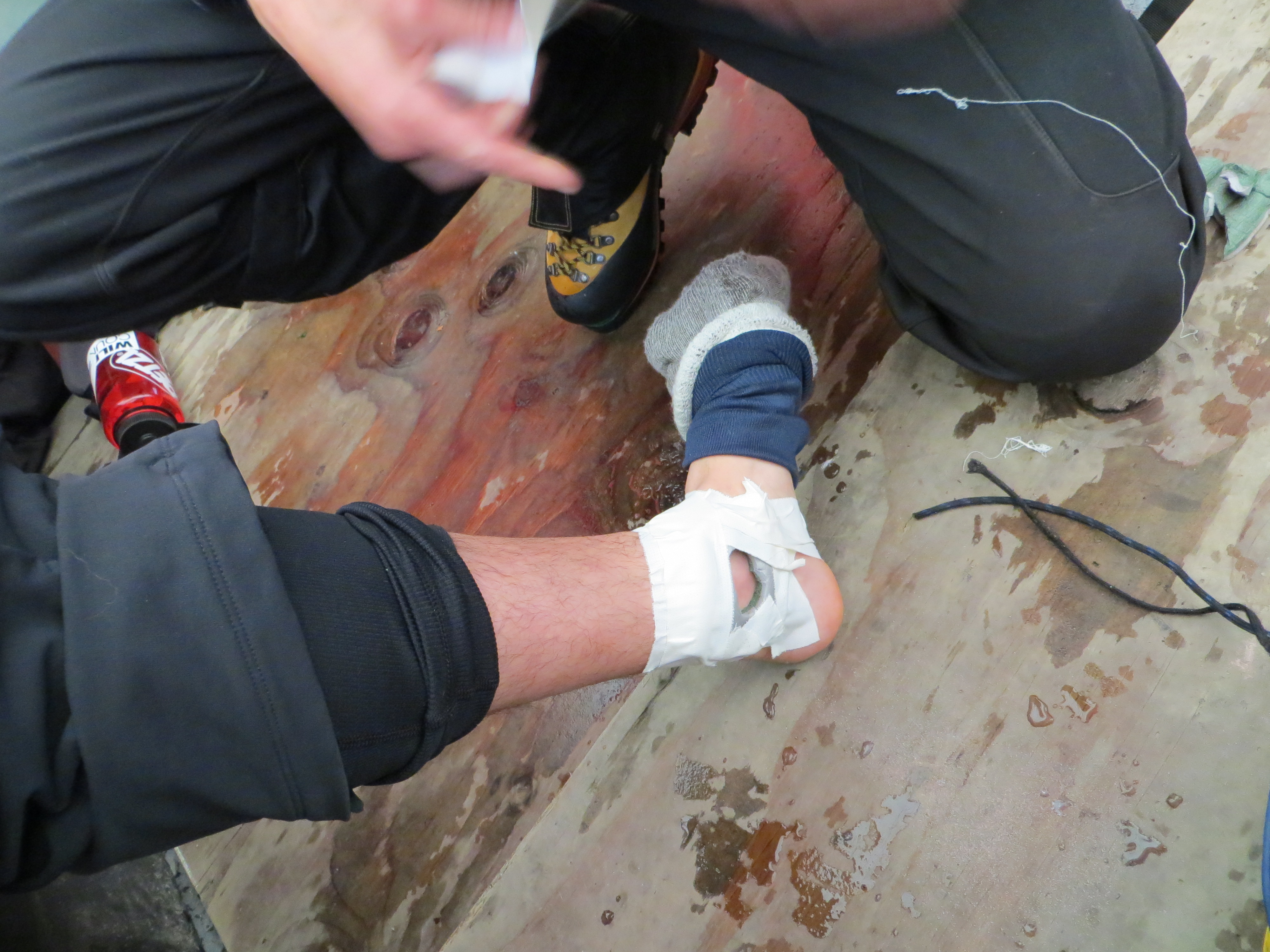 Day 2:
The benefit of a three day climb is that day two is an easy day focused mainly on training. After breakfast we geared up for some training, going over aspects of self-arrest, crampon, ice axe use and proper rope techniques for climbing further. After lunch we began our two hour hike across Cowlitz Glacier, over the rocky ridge line of Cathedral Gap to our high camp located at Ingraham Flats (11,200 ft.).
From this camp, we are able to see Little Tahoma (11,100 ft.) a prominent sub-peak of Mt. Rainier, and the North Cascades range, including the volcanoes Glacier Peak and Mt. Baker.
Camp tents were already secured by the AAI team prior to our arrival. The guides prepared the dining tent and prepared dinner. One thing I loved about Alpine Ascents International was the food they provided was excellent. Thanks to their permanent huts at camp Muir, they are able to store items so they could afford to bring more supplies each trip.
Tonight we are expecting significant snow fall. After dinner and discussing the plan for the next day we all head out to our tents to rest for the biggest day yet, the summit day.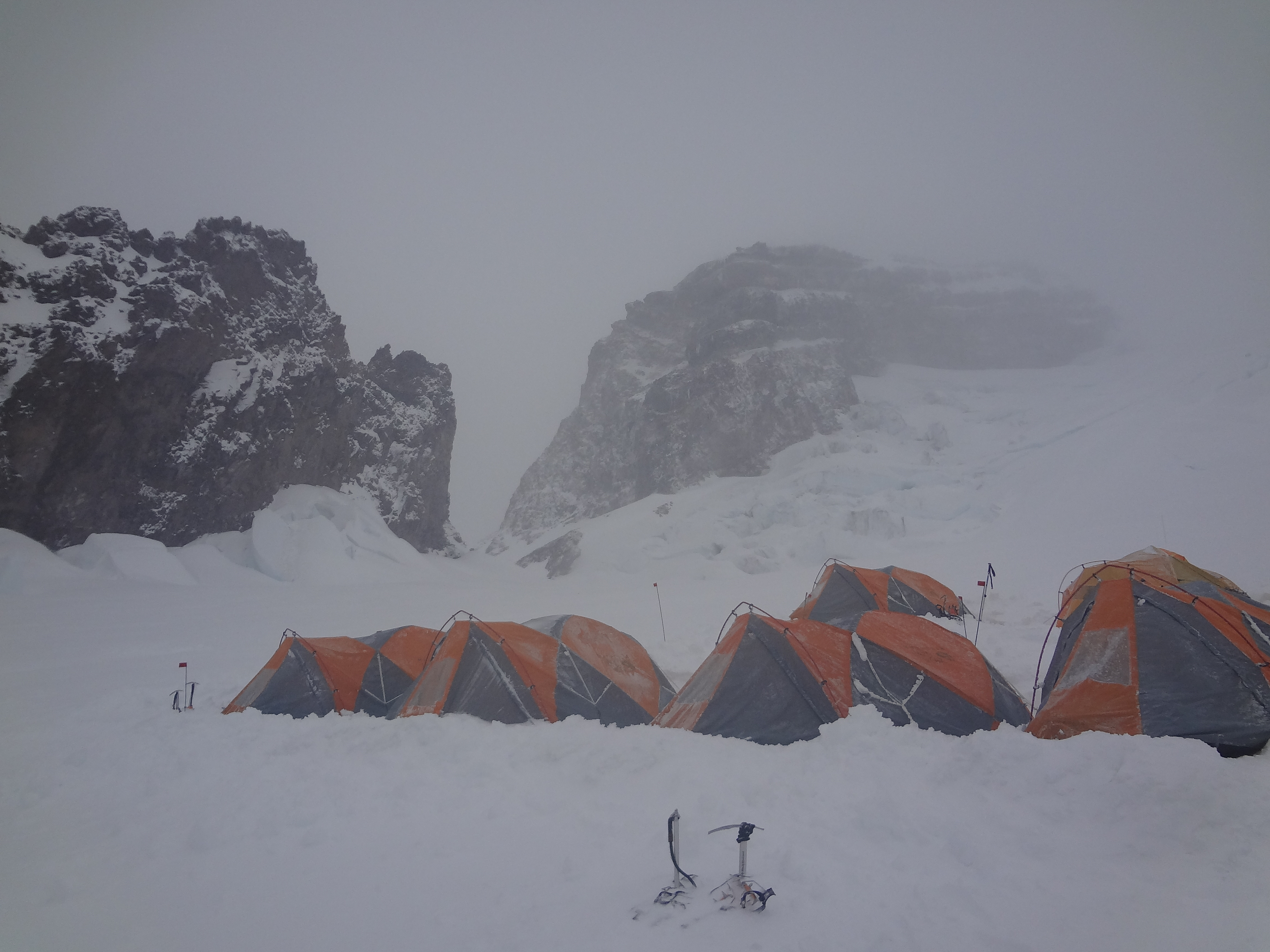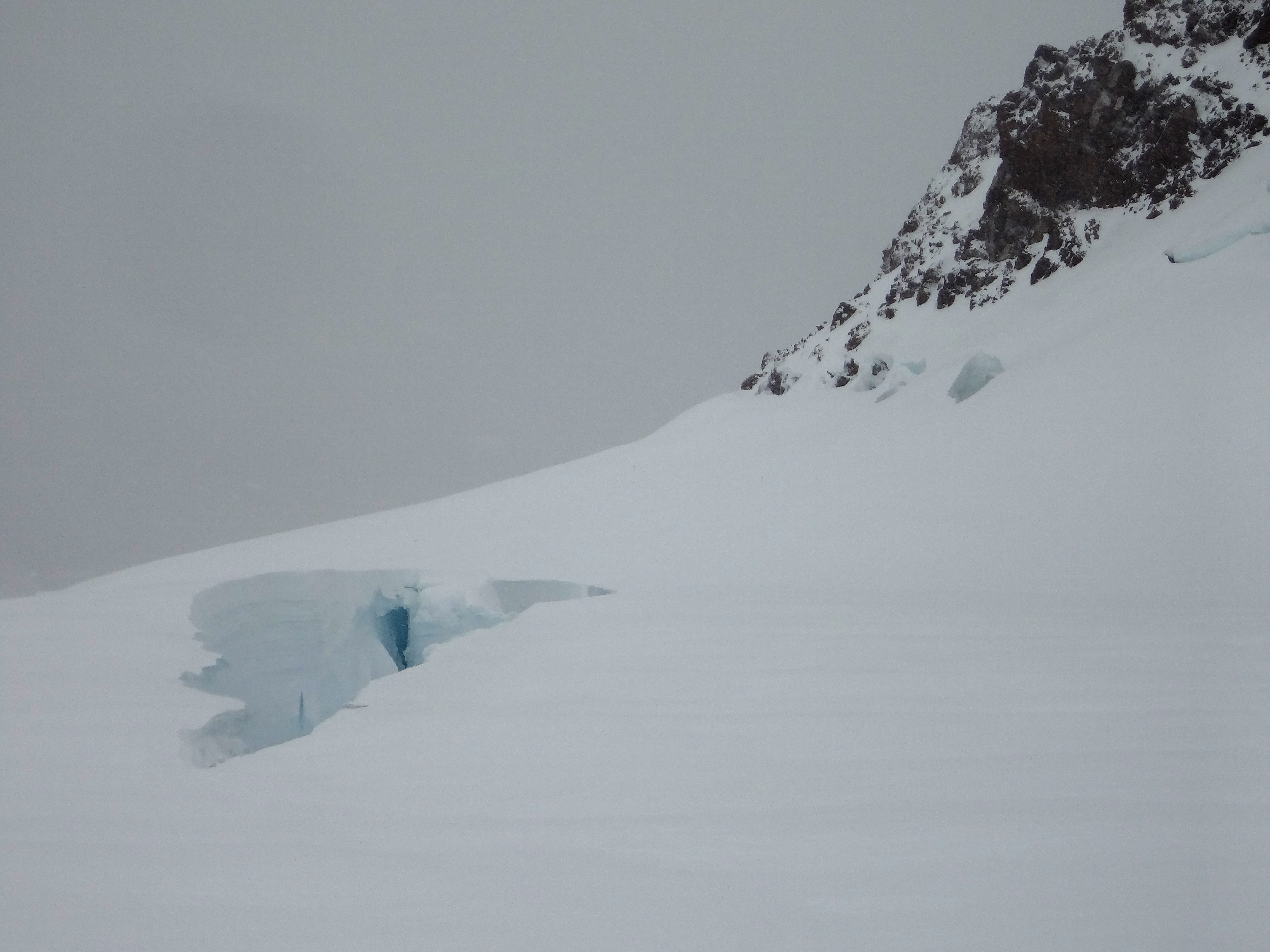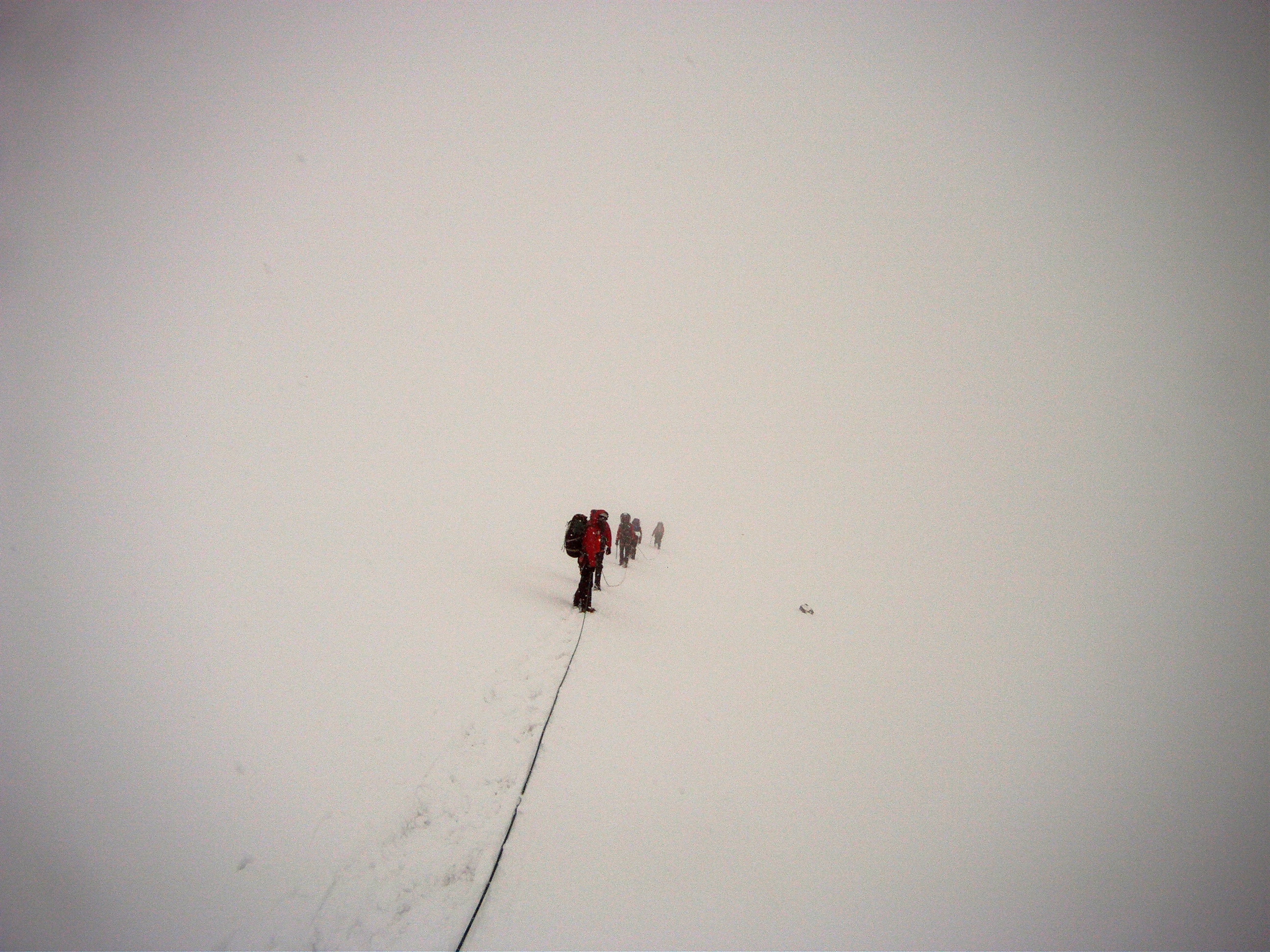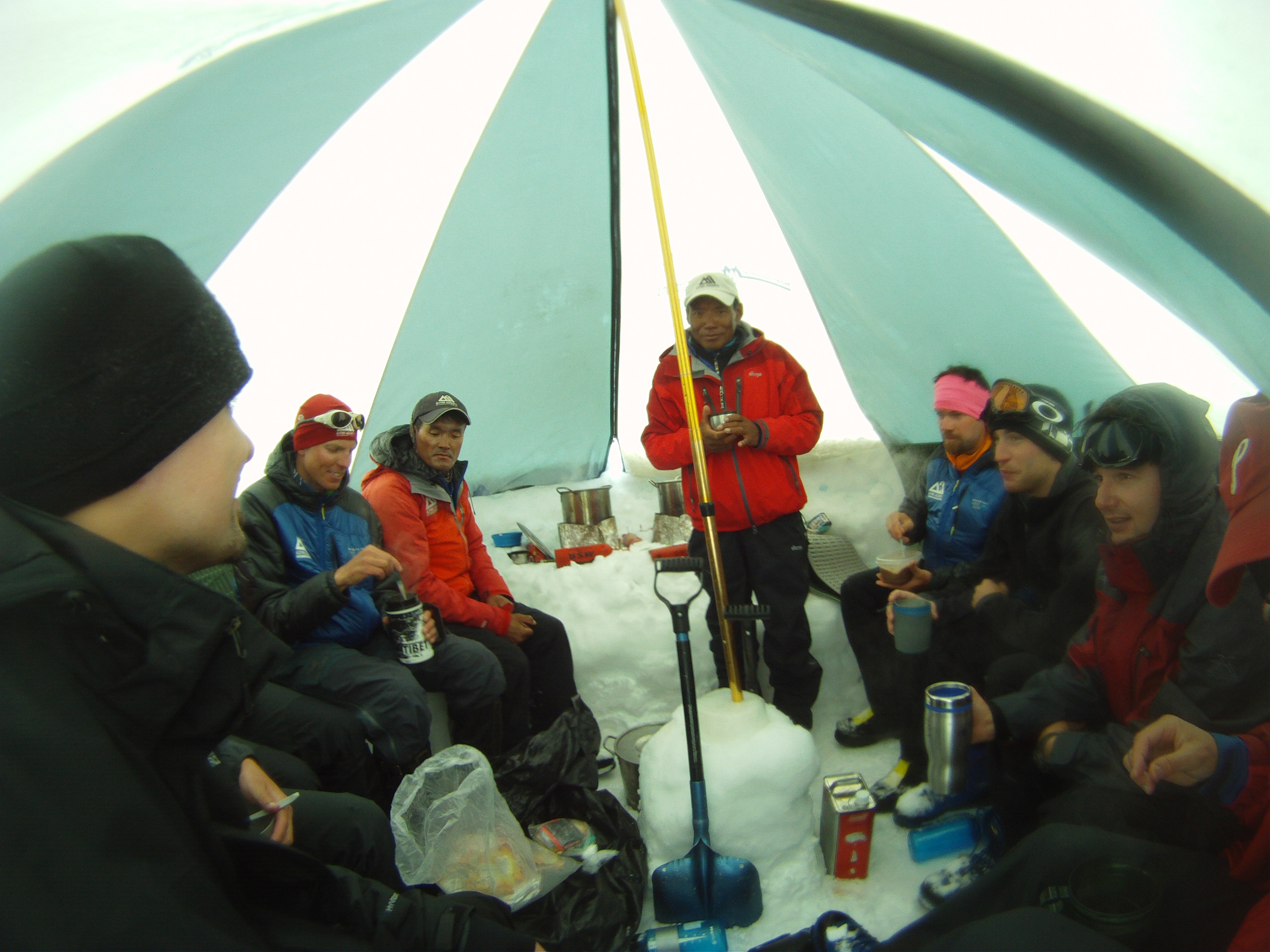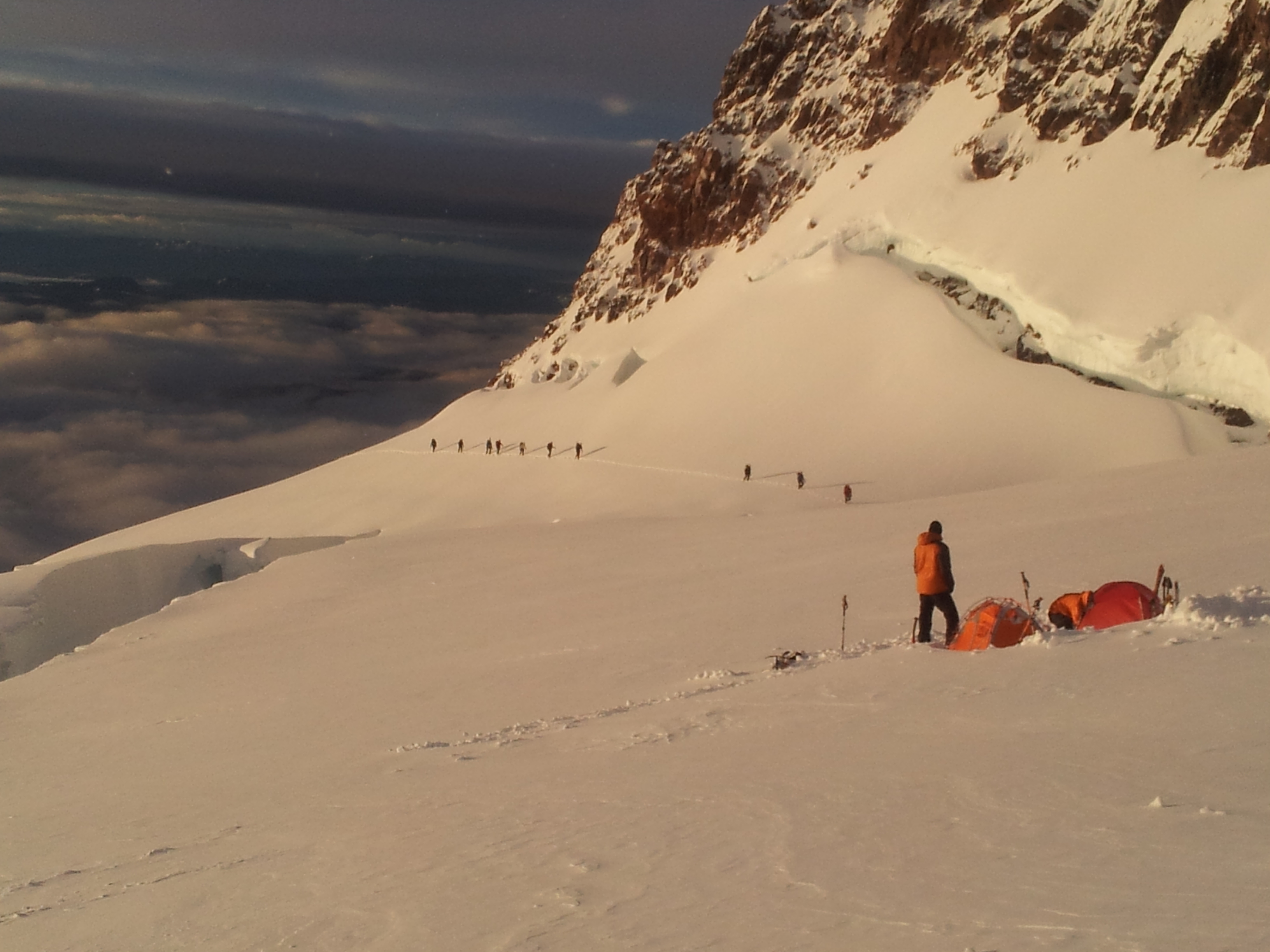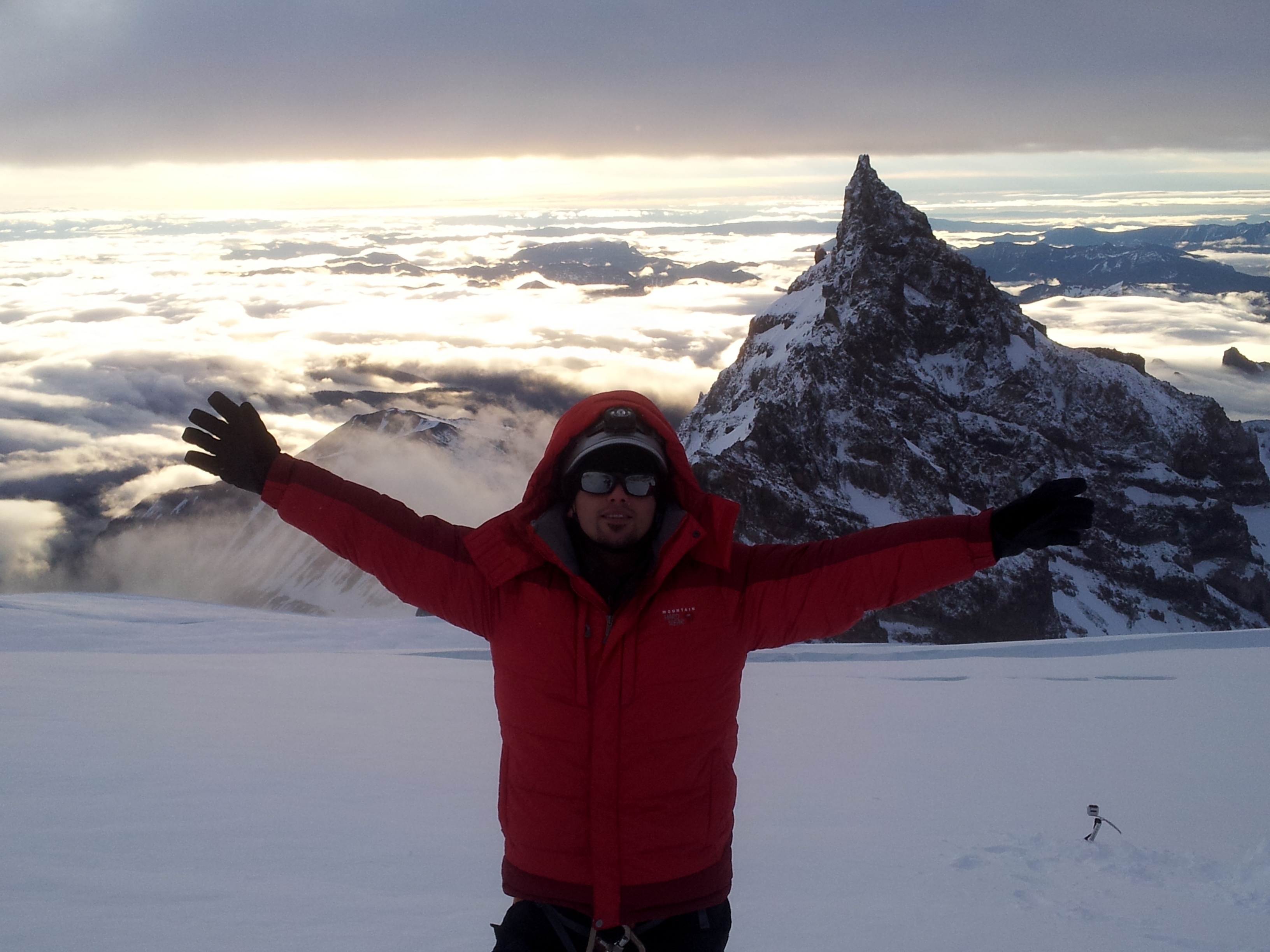 Day 3!
Rise and shine! Well, except the only thing shining is your headlamp at 2 a.m. Last night is snowed about 3 feet! The Sherpas have decided we would be taking the Disappointment Cleaver route up. It was an honor having Sherpa Lakpa Rita as my personal climbing partner. With 17 summits of Everest and being the first Sherpa to have ever climbed all 7 summits, he is the best of the best in this field. Lakpa Rita and I tie our ropes to each other, check our equipment and start heading up. Since we are starting from our high-camp, we are already ahead of other climbers so we have the mountain to ourselves.
On our way up we practice our learned technique of precise footwork and regulated breathing. It's going to take about five hours to ascend from our High Camp to the crater rim and then another hour to Columbia Crest, the main summit of Mt. Rainier. With snow at times as deep as your waist, a sore body, and wind blowing snow into your face as you struggle to pressure breathe, you begin wondering what in the world have you gotten yourself into. You don't realize the sheer cliffs and the narrow ridge you are on until daylight begins to reveal the seriousness of the ascent.
Our team begins to shrink in numbers as climbers can no longer push themselves any further. Your're mind begins to mess with you as you start wondering if you really have enough strength to make it to the top and then descend all what you have already traversed up in the last few days.
About two hours in, the ominous clouds close in and the weather takes a turn for the worse. The guides and Sherpas stop to discuss and conclude it's too risky to keep going further. We turn around and begin heading back. I was able to capture a few daylight photos before the clouds blocked the sun.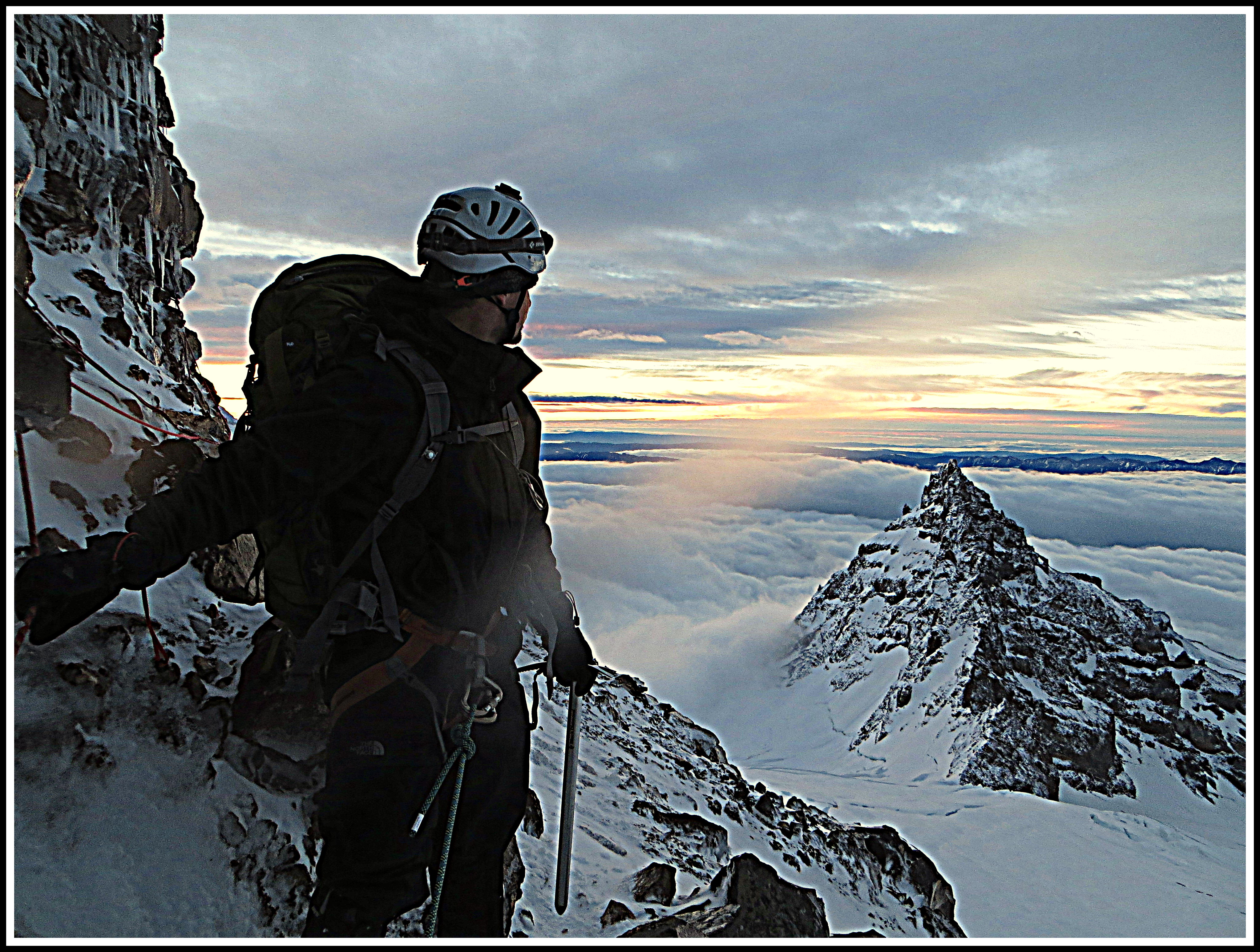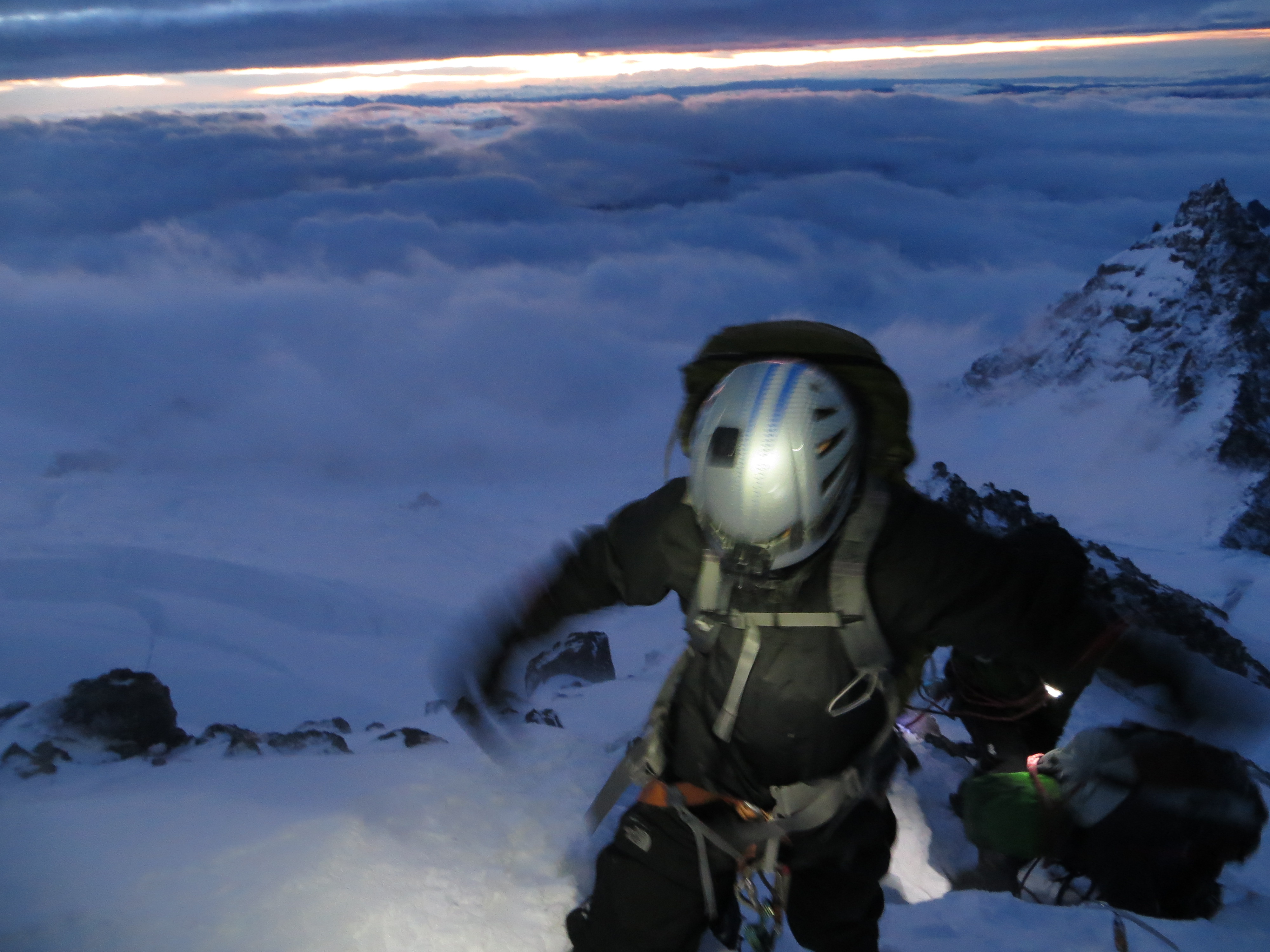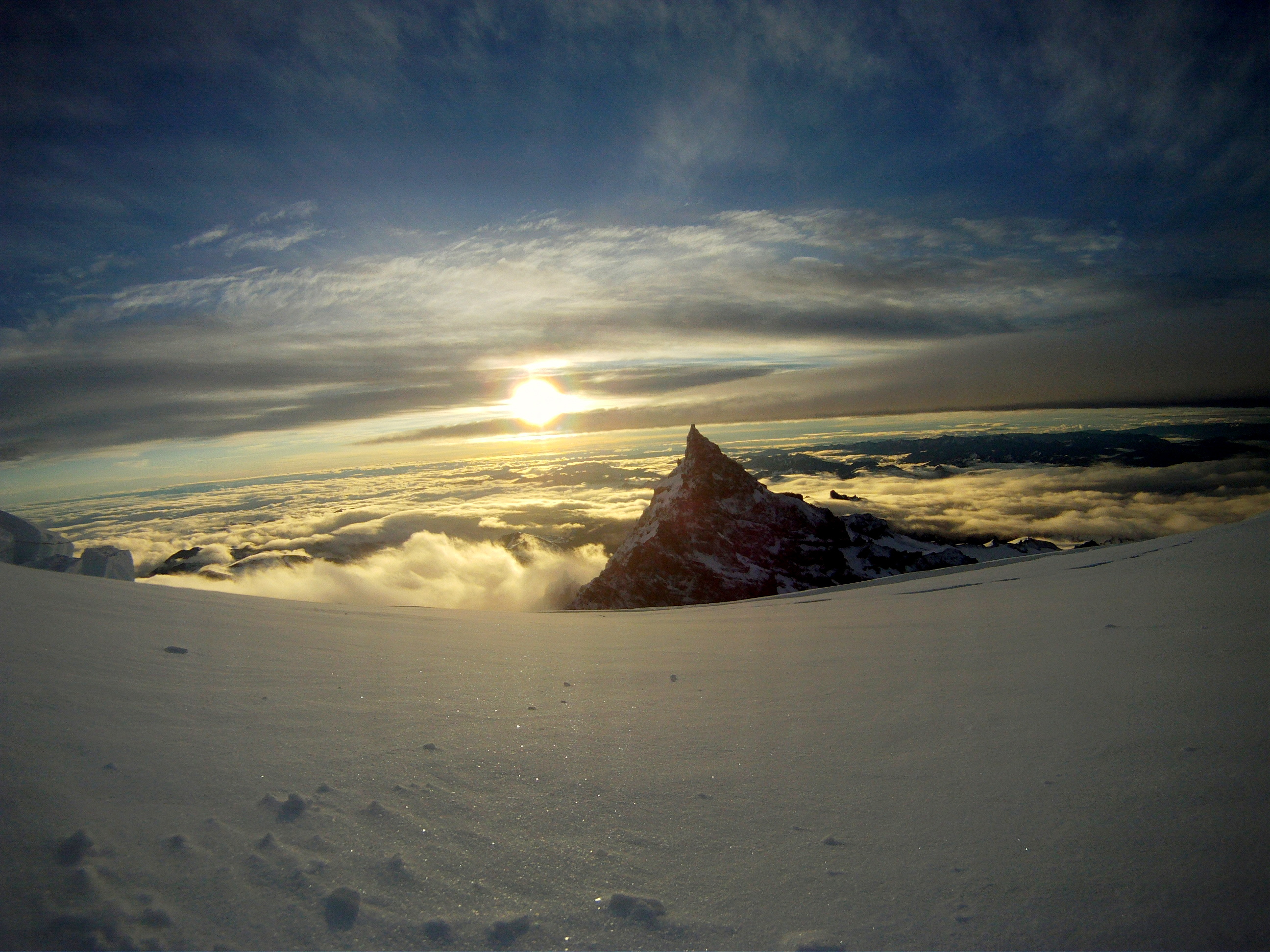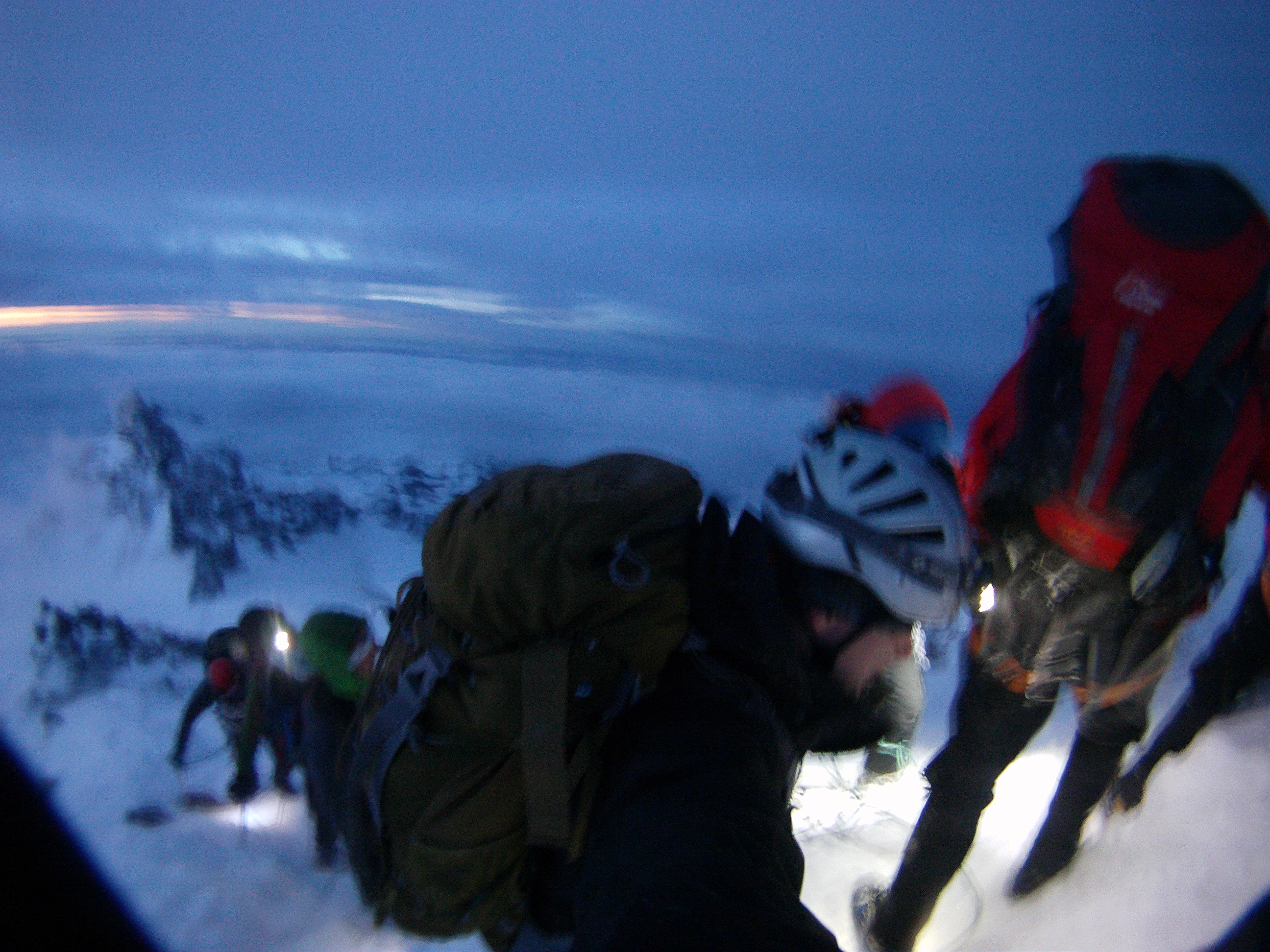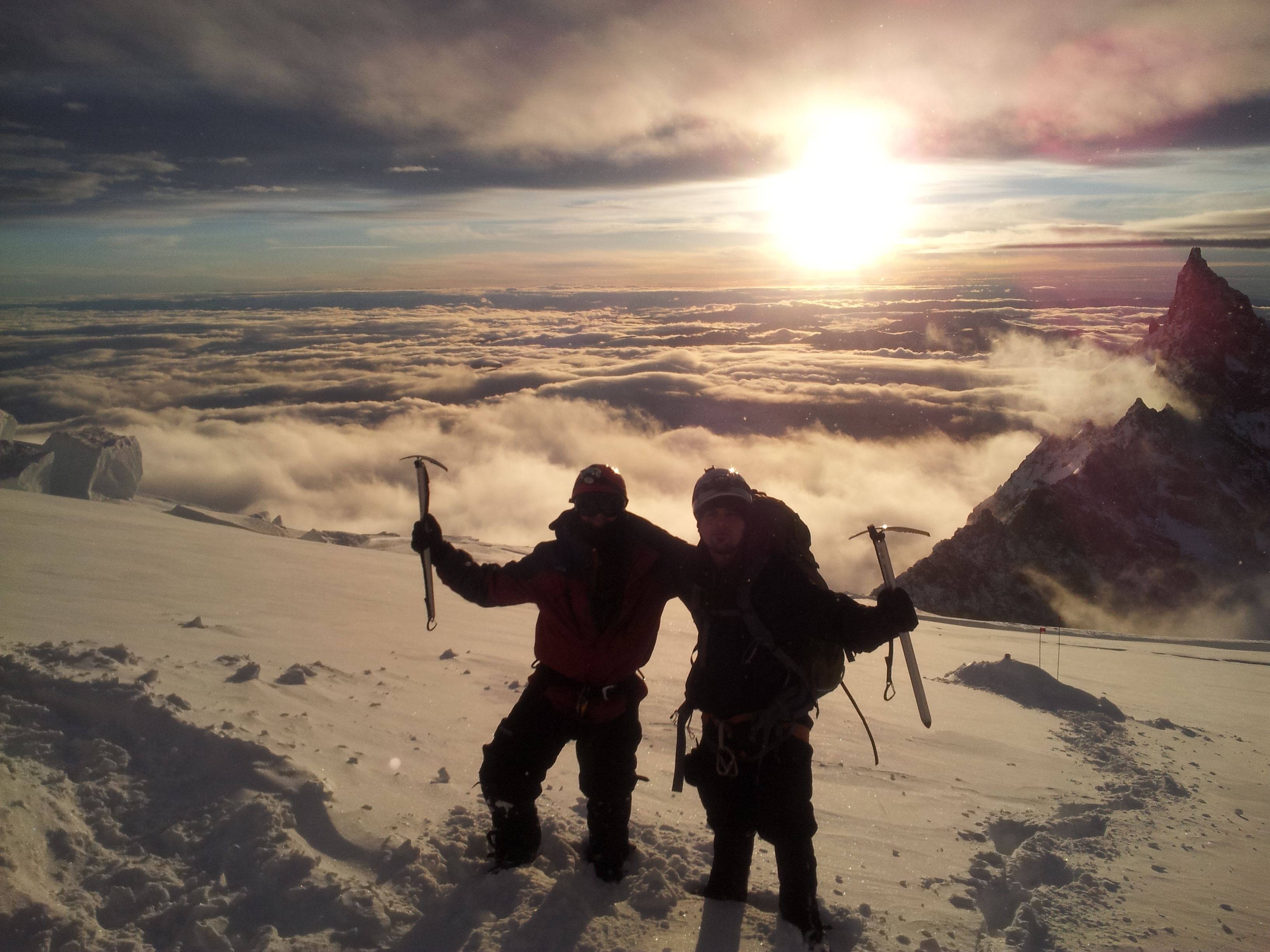 Stay tune. I'll be posting more about the final decent and more technical details about the gear!